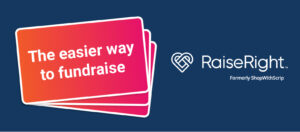 Support Grace By Shopping With RaiseRight
You can contribute significantly to Grace UMC without spending any additional money! Simply use gift cards purchased through the nationally recognized RaiseRight program (formerly ShopWithScrip) for your everyday purchases as well as gift purchases and you earn money for your church. These are the same gift cards, at the exact same price, that you would purchase at each store, but buying them through the program includes a rebate back to Grace United Methodist Church. Add up all those rebates and the RaiseRight program can make a significant impact on our budget.
It's easy to order, with multiple options so you can pick the one best for you.
– NEW APP OPTION: Order through the RaiseRight Fundraising App for delivery of physical gift cards right to your home or to someone else as a gift! Orders must be placed in the app and paid for with a bank or credit card. For a small shipping fee, cards that are labeled "Ship to Home Eligible" in the app can be shipped directly to you instead of Grace UMC. Download the RaiseRight App to your device. If you are already a Grace UMC RaiseRight member then just sign in and shop right from the app. If you need to join from within the RaiseRight app, call the Grace UMC Office at 321-452-2420 to request the Enrollment Code for Grace United Methodist Church. (You will need this code to link your account to Grace so we get credit for your orders).
– FORM DROP-OFF for PHYSICAL CARDS: If you prefer, you can download a RaiseRight order form, fill it out and drop it off at the Grace E&A Building along with a check payable to Grace UMC (you can also mail it). The paper form can also be picked up from the church office. The deadline for this option is normally the first Tuesday of every month. Your physical gift cards will be delivered to the church for you to pick up. You do NOT need to create an online account to use this option so it could not be easier. Contact the church office if you have questions.
– ONLINE ORDERING for PHYSICAL CARDS TO PICK UP AT GRACE: You can follow the steps below to set up a secure online account and order physical cards online — and you can also easily pay online through the program's secure PrestoPay feature plus a new credit card option —  or drop off a check for the cards you ordered online, payable to Grace UMC by the ordering deadline. Your physical gift cards will be delivered to the church for you to pick up. Click here to see a Q&A about the Credit Card payment option.
Click here to learn how to set up online Presto Pay.
Watch a video about signing up for PrestoPay.
– ELECTRONIC GIFT CARDS: eGift cards are still available for purchase on the RaiseRight website
Here's how to set up an online account:
Call the Grace UMC Office at 321-452-2420 to request the Enrollment Code for Grace United Methodist Church. (You will need this code to link your account to Grace so we get credit for your orders).
Go to www.raiseright.com
Select Get Started on the top right. Then select Join Your Existing Program.

Enter all of the requested personal information and accept terms of use.
Start shopping, either online or with a paper form! Consider using a credit card or setting up Presto Pay for ease of ordering. To keep costs down, RaiseRight charges a 2.6% convenience fee to pay with a credit card, but it does not impact the amount of the rebate that goes to Grace. Presto Pay, which links to a bank account, does not lead to a convenience fee.
Have questions? Contact Grace UMC's church office